Retails Systems Australia - POS software, POS hardware, POS systems, POS package deals, cash register, Point of Sale
myPOS Toshiba Bundle
Toshiba WILLPOS A-20
Overview
Specifically designed to reduce energy usage and environmental impact, the WILLPOS A20 is the finest POS choice for retailers looking for supreme performance and reliablity with impressive green credentials.
The WILLPOS A20 intelligent design features a high performance Intel Celeron M low-energy processor providing top-level POS performance whilst reducing running costs and CO2 emissions.
These new generation processors give a massive 76% performance increase with a 49% power saving when compared to previous models.
Coupled with the power of twin hard drive RAID capability for added data redundancy and peace of mind, the WILLPOS A20 is suitable for a wide range of environments from hotels and bars, service stations, general retail and pharmacy usage.
With inbuilt stereo speakers and a dual screen connectivity, the WILLPOS A20 presents a powerful state of art multimedia POS solution to the retailers.
TOSHIBA TEC's new POS system is now called WILLPOS (Worthy, Innovative, Leading, Low-cost operation) and represents the rest of our POS business. "WILL"also signifies our strong will, or committment, to achieve monozukuri. We will strive to make the TOSHIBA TEC WILLPOS synonymous with general POS systems.
Key Features & Benefits
Specifically designed to reduce energy usage and environmental impact, the WILLPOS A20 is the finest POS choice for retailers looking for supreme performance and reliability with impressive green credentials.
Green Machine

We work to strict ecological policies to benefit both the environment and our customers.
Recyclable chromium-free metal
Recyclable halogen-free plastic
Packaged in recyclable paper products
Built and supported for a long life cycle
Designed and manufactured based on ISO14001 standards
More Power, Less Energy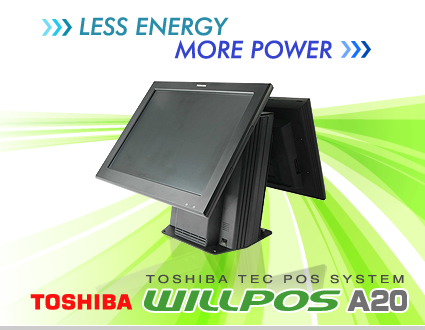 The innovative powerful and low-energy processor gives top-level POS performance whilst reducing running costs and CO2 emissions.
Recycling Program

We will collect and recycle our sed units, re-processing them for re-use.
Exciting Large Customer TFT Screen Display and in-built Speakers
Attract, entertain and stimulate customers with movies and music
The possibilities for promotions are infinite
Reliability
HDD Mirroring (RAID1) - Selecting the RAID hard disk option provides invaluable peace of mind, especially for small businesses. Twin hard drives divide and replicate your business-critical information.
SSD - The WILLPOS A20 also supports solid state drives and memory which will resist extreme shocks and temperature variations to give unsurpassed reliability, consderable power savings and very easy maintenance.
Flexibillity For Choice
We have the fleibility to tailor the following to your specific requirements:
Remote operator TFT display customisation for smaller checkout areas
Non-touch customisation for keyboard input for non-touch software
Cabinet colour options
Delivery timescales
Inherits the best WILLPOS A10 Features
Stylish and Compact Design
Easy Maintenance
Easy Connectivity and Tidy Cable Management
System Features
See detailed specs
pdf
Model
WILLPOS A20
CPU
Intel CeleronM

®

440 - 1.86 GHz
Memory
1GB Standard, 2GB Maximum (2 Slots - DDR2-553/PC2-4200)
Dual Display
15.1" / 12" TFT
Resolution
1024 x 768 / 800 x 600
Brightness
250 cd/m2 / 200 cd/m2
Touch Panel
5 Wire Resistive
Hard Disk Drive
40GB Standard (3.5") Serial ATA x 1
Type A: 1 x 3.5" HDD 40GB
Type B: 2 x 2.5" HDD 60GB
Customer Display
Option A: 2 Line x 20 Column VFD
Option B: 12" or 15" TFT / Touch or Non-Touch
Magnetic Card Reader
Option (ISO Track 1,2,3)
ibutton reader
Option
Interface

| | |
| --- | --- |
| RS-232C | 2 x COM D-Sub9 (male); 2 x powered COM D-Sub9 (female) |
| USB | 6 x USB(2.0), 2 x powered USB (12V)m 1 x powered USB (24V) |
| PS/2 | 2 x 6 pin MINI-DIN |
| Drawer | 2 x 24V type TEC interface drawer compatible |
| VGA | 1x Expandable VGA interface. 15-pin VGA female type connector |
| LAN | 1 x 10/100Base TX (RJ-45 modular connector ) |
| Audio | Line-out/Mic-in |

Audio
2 x Stereo speakers with volume control
Operating Temperature
5 - 40 ℃
Operating Humidity
10 - 80 RH No condensation
Cabinet Colour
Black
Power Supply
95W / 150W internal switching
Support OS
Windows2000, WindowsXP, WEPOS, Windows Vista, Certified Linux Suse 10
Device Driver
OPOS, JavaPOS
Weight
11.5Kg / 10.5Kg
Dimensions
366(W) x 251(D) x 360(H)mm / 306(W) x 247(D) x 337(H)mm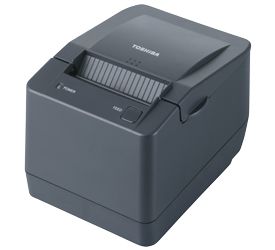 Thermal USB Printer
Overview
The TOSHIBA TRST-A10 thermal receipt printer has a small footprint and is designed to operate in all hospitality and retail environments.It delivers high-speed printing at low noise levels, comes at an extremely competitive price and is packed with innovative user-friendly features.

Fast and clear print-out (225 mm/s)
Print text, graphics and barcodes at top speed.
Low power mode
Extreme reliability
PC-less printer configuration
The Toshiba USB Receipt Printer is the ideal single station thermal receipt printer for retail environments. Its compact size makes it one of the smallest on the market today - perfect for space-constrained locations. It is the ideal printing companion for the Toshiba WILLPOS Systems.
Features

Printing
Direct thermal
Two colour printing
Print Speed

Max. 225 mm/s
Max. 50 mm/s
(2-colour printing)
Paper width

80 mm (72 mm printable width)
58 mm (54 mm printable width)
Roll
Max. 80mm
Resolution
203.2 x 203.2 dpi (8 dots/mm)
Character size

12 x 24 dots (standard) or 9 x 24 dots (compressed)
Printable area
80 mm paper: 48 characters (standard)
64 characters (compressed); graphics max. 576 dot wide
58mm paper: 36 characters (standard), 48 (compressed); graphics max. 432 dots wide
Barcodes
UPC-A, UPC-E, JAN13 (EAN), JAN8 (EAN), Code 39, Code 128, Interleaved 2 of 5, Codebar, PDF417, Code 93
Interfaces
Parallel or USB 2.0 & RS-232C, POS drawer, power supply
Power consumption
Fast mode: 75 W max.
Energy saving mode: 55 W max.
Reliability
MCBF: 52 million lines per thermal head
MTBF main PC board: 600,000 hrs
Colour
Cool black
Other features

Drop-in paper loading; paper exhaust/near end sensor and indicator (limit is adjustable by user); partial cut autocutter; 58 mm paper guide; cover release system (on A10 model only)
Operating temperature

5 - 500C
Dimensions WxDxH
145.5 x 185.5 x 141 mm
Weight
1.7 kg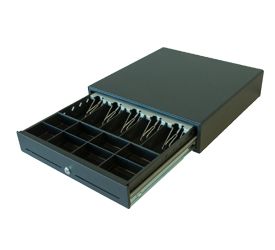 Cash Drawer
Toshiba Cash Drawer (large)
The Toshiba cash drawer is a high quality steel cash drawer with steel roller for smooth opening. Front key 3 position lock with removable tray. The Toshiba cash drawer shows plenty of perfection in technical qualities as well as in its innovative design. It offers plenty of space for paper money, coins and checks. It has a 5 notes and 8 coins compartment tray, drawer opening sensor switch, RJ11 connection. ROHS compliant. The Toshiba cash drawer is designed to work with all non-Toshiba TEC POS terminals and is perfectly suitable for all hospitality and retail usage
5 notes 8 coins
Standard (non-TEC) I/F
Steel roller ball for smooth operation
Front key 3 position opening and lock
Removable inserts
Size 420 mm (W) x 423 mm (D) x 112 mm (H) (including rubber feet)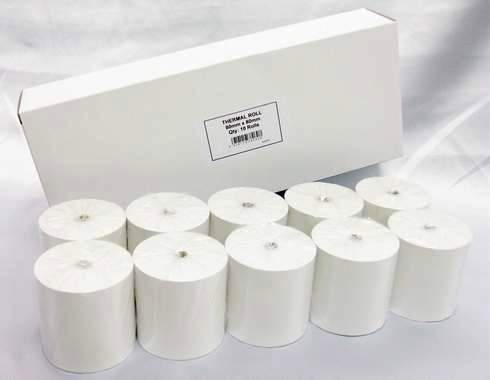 10 Thermal Rolls
myPOS Software for small cafes, restaurants and general merchandise.
Includes a comprehensive manual
Doesn't include Software Support or Training
(Hardware warranty... 3 year back-to-base)

myPOS Toshiba Bundle

Full Package

$4150.00 *

1 hours on-line training

$165.00 *

3 Months Software Support

(must have 3 hours training to qualify)

$330.00 *

Box 24 Thermal Rolls

$55.00 *

* All Prices are in Australian Dollars and Include GST